Experience Valentine's 2019 at Roji ♥
Experience Valentine's 2019 at Roji ♥
Valentine's 2019
Experience Valentine's with a French Japanese cuisine in the heart of medieval Antwerp at Roji Restaurant.
Valentine's Menu
OUR OFFER
We offer a diverse menu with high quality ingredients and a wide selection of wines.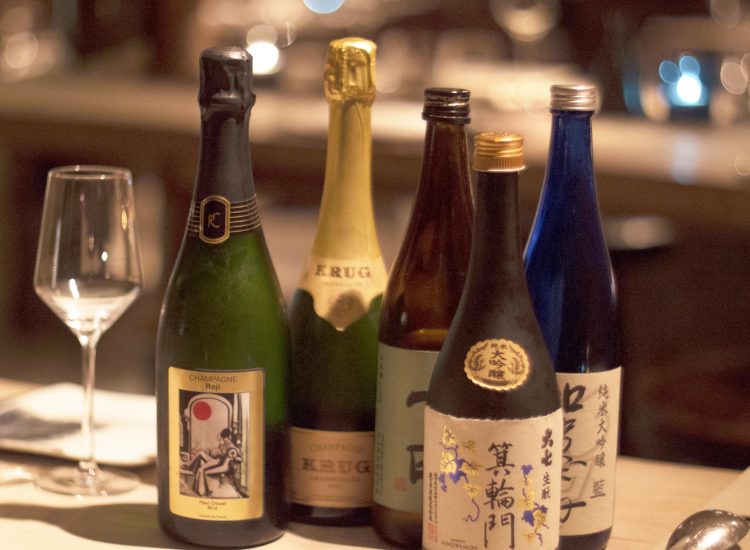 Champagne Krug, Reims

€177

Ambasador Krug
Krug Grande Cuvée
Chardonnay - Pinot Noir - Pinot Meunier

Paul Clouet Sélection Brut "Roji" Bouzy

€63

Chardonnay - Pinot Noir - Pinot Meunier

Cloudy Bay

€69

Marlborough
Sauvignon Blanc

Yottesoro Honjozo Tosatsuru

€48

This Honjozo sake is of high quality. The water for this sake is seawater, which is reflected in the taste. Soft and pure. (15%)

Tenzan Shichida junmai (2012)

€132

Origin: 1875, pasteurized pure sake. Top sake: spring water, which is the water in the top 100, and most rice soils ... The brewery is next to the Gion river and takes its name from Mount Ten-zan. Soft style, as an aperitif or with oyster preparations with raw fish with fresh vegetables, radish and cucumber. (15%)
Full Menu (PDF)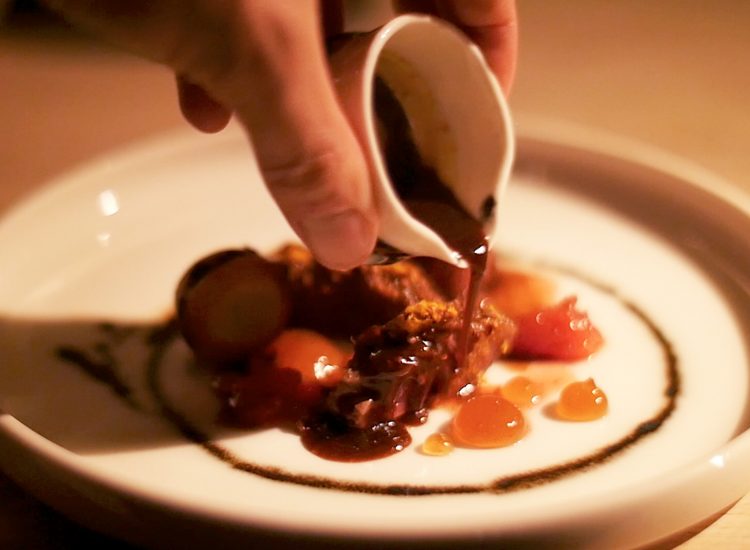 menu
Enjoy all our menu's
Roji-Omakase-Menu Chef's Bodi Choice

€149

excl. wine
Degustatie Menu - Shared Dining -
French-Japanese-Sushi
Incl. Wine €199 Incl. Saké €215

Roji-Menu 4-5 Courses

€59

4 courses Excl. Wine
Incl. Wine €89 Incl. Saké €109
5 Courses (Supplement €19)
incl. Wine (Supplement €8)

Roji-Sushi-Menu 4 Courses

€59

4 courses Excl. Wine
Incl. Wine €89 Incl. Saké €109
Full Menu (PDF)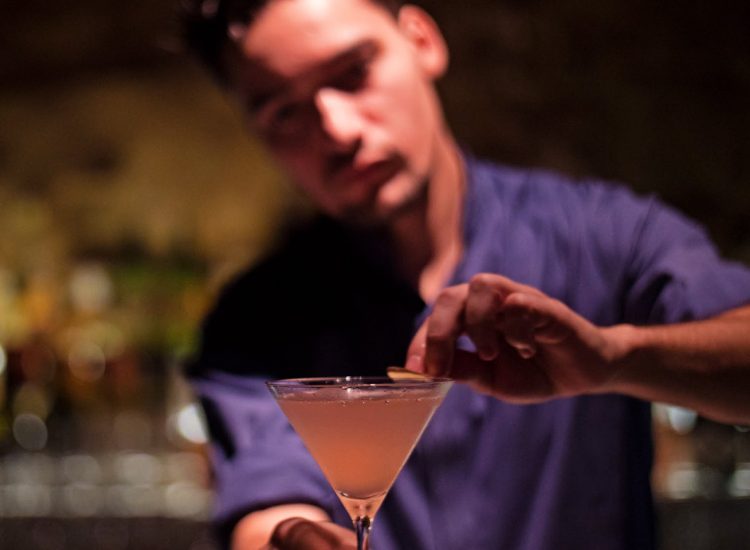 Based on the most classic cocktails, but with an Asian twist, these cocktails have been created by Roji for anyone who follows the path of Roji. Please feel free to order your favorite classic cocktail even if it is not mentioned on this menu.
The 'Roji' Vesper

€13

Ketel One Vodka, Tanqueray Gin, Lillet, Shiso, Bitters
Dry and strong

Ginger Cosmopolitan

€13

Ketel One Vodka, Cointreau, Lime Juice, Cranberry Juice, Ginger

Budo

€13

Hendrick's Gin, Cointreau, Grapes, Cucumber,
Elderflower, Lime.
Perfect Start Of Your Wonderful Evening

Rojitini

€14

Mount Gay Eclipse Rum, Elderflower, Lime
Sweet & Classy

The Roji Aviation

€14

Tanqueray Gin, Maraschino, Violette, lemon, Sparkling Sake
Fly through the night

Roji's 75

€14

Tanqueray Gin, Lemon, Sugar, Sparkling Sake, Ricard

Strawberry Ginger Daiquiri

€13

Mount Gay Rum, Strawberries, Ginger, Lime and Sugarcane

Shaken Roji Mojito

€14

Mount Gay Rum, Sweet & Sour, Gingerbeer, Mint, Soda

Japanese Whisky Sour

€24

Nikka from the Barrel, Yuzu Juice, Egg White, Lemongrass
Syrup And Angostura
Full Menu (PDF)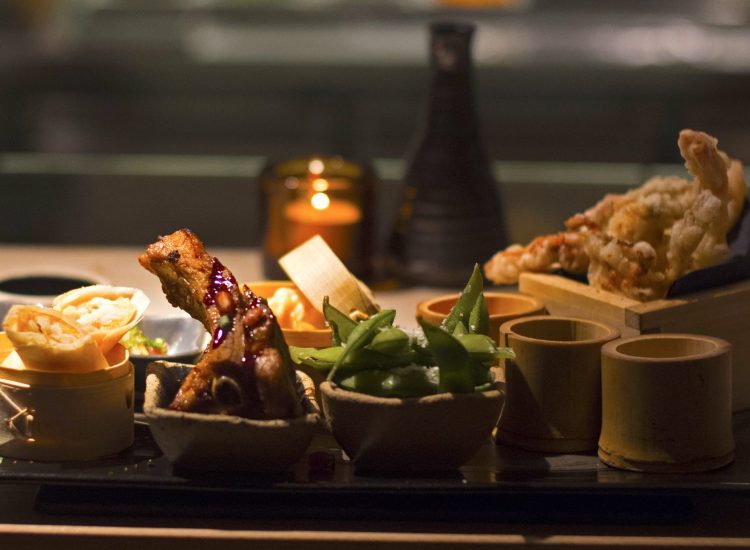 A SELECTION OF STARTERS
Spoil yourself with the taste of our delicious starters, that will leave you wanting more.
Edamame Beans

€9

Edamame Beans

€11

Crispy Tuna Pizza

€12

Horseradish, Wasabi
4 pieces

Nobashi Shrimp Popcorn

€16

Nobashi Shrimp Tempura

€20

'OdoRoji' Oyster

€19

Oyster Gillardeau
2x2 pieces

Chicken Terriyaki

€15

'Yakitori', Binchotan Grill, Sesame

Soft Shell Crab

€18

Mixed fingerfood

€20

Price per person, 7 differents types / 2 persons

Crispy chicken, Spicy Yuzu

€14

Tuna Tartare

€20

Taco's Maguro-Sake Tartare, Wasabi, Tomato

Springrolls King Krab

€20

Home Made Gyoza

€14

Chicken & Shrimps
4 pieces

Home Made Gyoza

€20

Miso Soup

€9

'Tom Kha Kai'

€18
Full Menu (PDF)
Valentine's Menu  ♥
 Oyster/ beetroot / ponzu
_________________________
 Hamachi / edamame / caviar / soba / tosazu
_________________________
Sushi deluxe Assortiment
 _________________________
Black cod, new taste
_________________________
Lamb shoulder / star anise / puffed rice
_________________________
Ocean / hoisin / Brussels sprouts / maitake
_________________________
Chocolate secret / forbidden fruit
OUR STORY
The restaurant was given the name "Roji", which in Japanese means the path of stones, which leads to the tearoom.  
Our path leads you to a beautifully lit fire place where you can unwind with a pre-dinner drink and immediately feel the tranquility and zen atmosphere. 
DISCOVER